Posts for: August, 2016
By Norman Family Dentistry
August 19, 2016
As a member of the best-selling pop group Spice Girls, Mel C (AKA Sporty Spice) enjoyed her share of musical superstardom. At the band's peak in the Nineties, the young singer's signature look featured baggy sweatpants, an assortment of tattoos, a nose stud and a gold-capped incisor, front and center in her mouth. Today, Melanie Chisholm is still singing — but now she's a mom, an amateur triathlete… and that gold tooth is just a memory. Not only that, her smile looks more evenly spaced and whiter than it did when she was referred to as the "tomboy" of the group.
What happened? In our view, it all boils down to changing tastes — plus a little bit of help from dental professionals. As the "wannabe" singer proves, there's no single standard when it comes to making your teeth look their best. Your own look is unique to you — and your smile can reflect that individuality.
For example, crowns (caps) are substantial coverings that may be placed on teeth when they are being restored. They are available in three types: gold, all-porcelain, or porcelain-fused-to-metal. The latter two are tooth-colored, while the gold is — well, shiny like gold bling. Which one is right for you? In many cases, it's your choice.
Likewise, dental veneers — wafer-thin shells that can correct cosmetic issues by covering the surface of your teeth — can be made in a variety of shades. Their hues may range from natural ivory to Hollywood white, and everything in between. What's the best color for you? Only you can say.
Some people opt for a "smile makeover" that uses small irregularities in the spacing and color of teeth to create a more "natural" look. Other folks want a perfectly even, brilliant white smile that dazzles the eye. Still others are looking to match or restore the smile they once had — perhaps even re-creating a signature gap between the teeth. As long as there are no other dental issues involved, the choice is yours.
So if you're unhappy with your smile — or if you feel it doesn't reflect the person you "wannabe" — why not talk to us about a smile makeover? Just call our office to schedule a consultation. You can learn more about this topic in the Dear Doctor magazine articles "Beautiful Smiles by Design" and "The Impact of a Smile Makeover."
By Norman Family Dentistry
August 04, 2016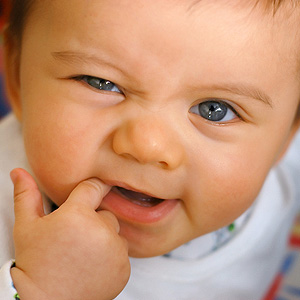 Your sweet, happy baby has suddenly become a gnawing, drooling bundle of irritation. Don't worry, though, no one has switched babies on you. Your child is teething.
For most children, their first teeth begin breaking through the gums around six to nine months. Usually by age three all twenty primary ("baby") teeth have erupted. While the duration and intensity of teething differs among children, there are some common symptoms to expect.
Top of the list, of course, is irritability from pain, discomfort and disrupted sleep. You'll also notice increased gnawing, ear rubbing, decreased appetite, gum swelling or facial rash brought on by increased saliva (drooling). Teething symptoms seem to increase about four days before a tooth begins to break through the gums and taper off about three days after.
You may occasionally see bluish swellings along the gums known as eruption cysts. These typically aren't cause for concern: Â the cyst usually "pops" and disappears as the tooth breaks through it. On the other hand, diarrhea, body rashes or fever are causes for concern — if these occur you should call us or your pediatrician for an examination.
While teething must run its course, there are some things you can do to minimize your child's discomfort:
Provide them a clean, soft teething ring or pacifier to gnaw or chew — a wet washcloth (or a cold treat for older children) may also work. Chill it first to provide a pain-reducing effect, but don't freeze it — that could burn the gums.
Use a clean finger to massage swollen gums — gently rubbing the gums helps counteract the pressure caused by an erupting tooth.
Alleviate persistent pain with medication — With your doctor's recommendation, you can give them a child's dosage of acetaminophen or ibuprofen (not aspirin), to take the edge off teething pain.
There are also things you should not do, like applying rubbing alcohol to the gums or using products with Benzocaine®, a numbing agent, with children younger than two years of age. Be sure you consult us or a physician before administering any drugs.
While it isn't pleasant at the time, teething is part of your child's dental development. With your help, you can ease their discomfort for the relatively short time it lasts.
If you would like more information on relieving discomfort during teething, please contact us or schedule an appointment for a consultation. You can also learn more about this topic by reading the Dear Doctor magazine article "Teething Troubles."