Posts for tag: dental implants
By Norman Family Dentistry
January 17, 2017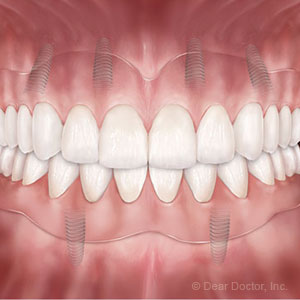 Not long ago, the most affordable option for total tooth loss was a removable denture. Dentures, prosthetic (false) teeth set in gum-colored acrylic plastic bases, can effectively restore function and appearance. But the appliance continues to have one major drawback: it can accelerate bone loss in the jaw.
Like other living tissues, older bone cells die and become absorbed into the body (resorption). Normally they're replaced by newer cells. The forces generated when we chew our food travel through the teeth to stimulate this new growth. This stimulus ends when we lose our teeth, and so cell replacement can slow to an abnormal rate. Eventually, this causes bone loss.
Removable dentures can't provide this stimulation. In fact, the pressure generated as they compress the gums' bony ridges can even accelerate bone loss. That's why over time a denture's fit can become loose and uncomfortable — the bone has shrunk and no longer matches the contours of the dentures.
In recent years, though, a new development has been able to provide greater support to dentures while at the same time slowing or even stopping bone loss. We can now support dentures with dental implants.
Implants are best known as individual tooth replacements: a titanium metal post replaces the root, while a life-like porcelain crown attaches to the post to replace the visible tooth. In addition to providing a longer-lasting alternative to removable dentures, implants provide a very important health benefit: they improve bone density because they mimic the function of natural teeth. Bone cells are naturally attracted to the titanium; they adhere to the titanium post and are stimulated to grow through the action of chewing, increasing bone density and securing the implant's hold in the jaw.
Using the same technology we can support removable dentures, or even full fixed bridges. Rather than rest directly on the bony ridges, a denture can make a secure connection through a coupling system with just a few strategically placed implants. We can also permanently attach a full bridge by fastening it to a few implants with screws.
Not only do we eliminate the pressure from dentures compressing the gums and bone tissue, we can actually stimulate bone growth with the implants. Although more costly upfront than traditional dentures, unlike traditional dentures which must be replaced every five to seven years, long-lasting implants may be more cost-effective over the long-run.
If you would like more information on implant-supported tooth replacement, please contact us or schedule an appointment for a consultation. You can also learn more about this topic by reading the Dear Doctor magazine article "New Teeth in One Day."
By Norman Family Dentistry
October 11, 2016
In real life he was a hard-charging basketball player through high school and college. In TV and the movies, he has gone head-to-head with serial killers, assorted bad guys… even mysterious paranormal forces. So would you believe that David Duchovny, who played Agent Fox Mulder in The X-Files and starred in countless other large and small-screen productions, lost his front teeth… in an elevator accident?
"I was running for the elevator at my high school when the door shut on my arm," he explained. "The next thing I knew, I was waking up in the hospital. I had fainted, fallen on my face, and knocked out my two front teeth." Looking at Duchovny now, you'd never know his front teeth weren't natural. But that's not "movie magic" — it's the art and science of modern dentistry.
How do dentists go about replacing lost teeth with natural-looking prosthetics? Today, there are two widely used tooth replacement procedures: dental implants and bridgework. When a natural tooth can't be saved — due to advanced decay, periodontal disease, or an accident like Duchovny's — these methods offer good looking, fully functional replacements. So what's the difference between the two? Essentially, it's a matter of how the replacement teeth are supported.
With state-of-the-art dental implants, support for the replacement tooth (or teeth) comes from small titanium inserts, which are implanted directly into the bone of the jaw. In time these become fused with the bone itself, providing a solid anchorage. What's more, they actually help prevent the bone loss that naturally occurs after tooth loss. The crowns — lifelike replacements for the visible part of the tooth — are securely attached to the implants via special connectors called abutments.
In traditional bridgework, the existing natural teeth on either side of a gap are used to support the replacement crowns that "bridge" the gap. Here's how it works: A one-piece unit is custom-fabricated, consisting of prosthetic crowns to replace missing teeth, plus caps to cover the adjacent (abutment) teeth on each side. Those abutment teeth must be shaped so the caps can fit over them; this is done by carefully removing some of the outer tooth material. Then the whole bridge unit is securely cemented in place.
While both systems have been used successfully for decades, bridgework is now being gradually supplanted by implants. That's because dental implants don't have any negative impact on nearby healthy teeth, while bridgework requires that abutment teeth be shaped for crowns, and puts additional stresses on them. Dental implants also generally last far longer than bridges — the rest of your life, if given proper care. However, they are initially more expensive (though they may prove more economical in the long run), and not everyone is a candidate for the minor surgery they require.
Which method is best for you? Don't try using paranormal powers to find out: Come in and talk to us. If you would like more information about tooth replacement, please contact us or schedule an appointment for a consultation. You can learn more in the Dear Doctor magazine articles "Crowns & Bridgework," and "Dental Implants."
By Norman Family Dentistry
August 08, 2015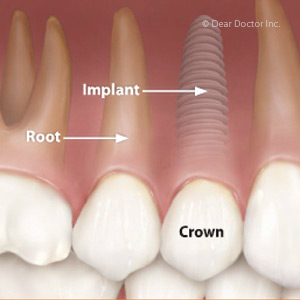 You've probably heard a lot of great things about dental implants as a replacement for missing teeth. But there's one aspect about implants that may cause you hesitation about choosing them: the cost. If you have multiple teeth to be replaced, the expense of implants may seem even further beyond your means.
But before you decide against what's widely considered the premier tooth replacement option, it would be beneficial for you to look at their cost from a long-term perspective. You may find implants are actually a cost-effective investment in both your oral health and your smile.
So, what sets the dental implant apart from other options? One of its most important attributes is its life-like appearance. Not only does the visible crown resemble the color, shape and texture of natural teeth, the implant's placement can so precisely mimic the appearance of natural teeth emerging from the gums, it's indistinguishable from the real thing.
They're not just attractive, but also durable. This is due in large part to titanium, the most common metal used in implants, which has the unique quality of being osseophilic, or "bone-loving." Bone cells naturally attract to titanium and over time will grow and adhere to the implant in a process known as osseointegration. As a result, the implant's attachment in the jaw becomes strong and secure.
This durability gives implants a greater longevity on average than most other replacement options. If you thus compare the total costs for an implant (including maintenance) over its projected life with the costs of other options like dentures or fixed bridges, you'll find implants may actually cost less over time.
That may sound affordable for one or two missing teeth — but what about several? Replacing multiple teeth individually with implants can be quite high; but implants are also versatile — just a few strategically placed implants can support a fixed bridge or overdenture. This "hybrid" solution combines the affordability of these other options with the stability of implants.
Before weighing your options, you should first undergo a complete dental examination to see if you're a candidate for implants. From there we can help you decide whether implants are the right investment for your health and your smile.
If you would like more information on dental implants, please contact us or schedule an appointment for a consultation. You can also learn more about this topic by reading the Dear Doctor magazine article "Dental Implants 101."