Posts for tag: pediatric dentistry
By Norman Family Dentistry
March 18, 2017
There are a lot of things we do without much conscious thought — habits we've developed over time. Some habits help streamline our lives for the good; others, though, hold us back or even harm us. A lot of these habits, both good and bad, form during our childhood years.
That's why it's important for you to guide your children into forming good habits. The goal is that when they're adults they'll "own" these habits, and their life will be healthier and happier because of them.
One particular area of habit-forming focus is dental care. It's essential your children develop good habits caring for their teeth and gums. The most important is a daily routine of brushing and flossing.
Brushing and flossing has one primary aim: to remove bacterial plaque, a thin film of food particles that builds up on tooth surfaces. Bacteria in plaque are the main cause for two potentially devastating diseases, tooth decay and periodontal (gum) disease. Allowing plaque to build up over just a few days can trigger an infection that inflames the gums or softens enamel leading to tooth decay. Left untreated these diseases can ultimately cause tooth and bone loss.
A daily habit of brushing and flossing, along with semi-annual professional cleanings, can drastically reduce a person's risk for these diseases. It's best to instill these habits and their importance as soon as your child's teeth begin to erupt in the mouth.
In the beginning, you'll be performing the habit for them: for children two and younger use a slight smear of toothpaste on the brush. As they get older, you can increase it to pea size. Eventually you'll want to help them learn to brush on their own. In this case, modeling the behavior — both of you brushing your teeth together — will have the biggest impact and help them see how important the habit really is.
Before you know it, brushing and flossing will become second nature, a habit they'll begin doing on their own without being told. Once instilled, it'll be a habit they'll practice long after they leave your care — and one they'll hopefully pass on to their own children.
If you would like more information on proper dental care for your child, please contact us or schedule an appointment for a consultation. You can also learn more about this topic by reading the Dear Doctor magazine article "How to Help Your Child Develop the Best Habits for Oral Health."
By Norman Family Dentistry
December 25, 2016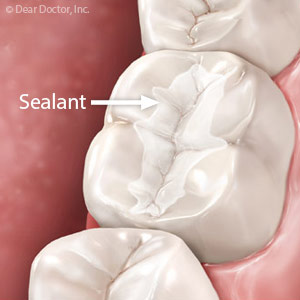 Have you heard about dental sealants? These preventive treatments have been available for many decades, and more and more children are taking advantage of them. The National Institutes of Health (NIH) estimates that around 30% of kids from 6 to 11 years of age have had sealants applied to their molars (back teeth). Sealants are designed to reduce the incidence of cavities by filling in or eliminating the pits or crevices found in all molars, where decay-causing bacteria can hide and your brush can't reach. But do they really work?
Now, the research is in, and the answer is clear — YES!
Two major studies, each of which reviewed the results of thousands of patients over several years, recently came to the same conclusion: Dental sealants are effective at reducing cavities, and their benefits can last for four years (or more) after application. In general, the studies showed that kids who didn't get sealants were twice, three times, or even more likely to get cavities, compared to kids treated with sealants.
Sealants themselves are protective coatings made of plastic resins or glass-like materials. They are applied in liquid form, and then hardened by a special light. When "painted on" to the chewing surface of a molar, sealants fill in the tiny crevices, or "pits and fissures," that are found there. Uneven tooth surfaces form a perfect breeding ground for the bacteria that cause tooth decay; worse yet, the bristles of a tooth brush can't usually reach them. That's what makes these areas highly susceptible to tooth decay.
Applying sealants is a quick and painless procedure that doesn't require any numbing shots or drilling. Many kids start getting sealants when the first permanent molars come in, around age 5 to 7; they may have more sealant treatments when additional molars emerge, between the ages of 11 and 14.
Sealants are recommended by the American Dental Association and the American Academy of Pediatric Dentistry, and have only a modest cost per tooth. On the other hand, having a cavity filled generally costs substantially more, and may result in more trouble (and expense) down the line — so sealants can make sense economically, as well as preventively. This is especially true for those at high risk for tooth decay.
If you have questions about dental sealants, please contact us or schedule a consultation. You can read more in the Dear Doctor magazine article "Sealants for Children," and "Top 10 Oral Health Tips for Children."
By Norman Family Dentistry
September 30, 2015
Children's ailments come and go, and thankfully most are relatively minor. Some children, however, have impaired health caused by a more serious, chronic disease. For them, the condition impacts not only their overall well-being, but also their dental health.
This often occurs because the specific healthcare needs of children with these chronic conditions are given greater priority over dental health. Besides the treatment focus, children with special healthcare needs may have physical, mental or behavioral limitations that can make it difficult to keep up with oral hygiene and care.
Children with autism or attention deficit and hyperactivity disorder (ADHD) may have a difficult time practicing (or cooperating with) oral hygiene tasks. Some may not have the physical ability to perform effective brushing and flossing without assistance. In these cases, it's important for parents or caregivers to seek out instruction and training that will optimize their children's hygiene and so reduce the chance of dental disease.
Certain medications for chronic conditions can increase mouth dryness, or they're acidic or sweetened with sugar, any of which can increase the child's risk for tooth decay or periodontal (gum) disease. Parents or caregivers should consult with their physicians about these medications or if they could be administered at mealtime to minimize their effect on the mouth.
Finally, there's the direct effect some conditions may have on a child's teeth and gums. Children with severe gag reflexes due to their condition may not be able to tolerate toothpaste or be able to spit it out completely. Other conditions can give rise to dental defects such as enamel hypoplasia in which not enough enamel develops to adequately protect the teeth.  Such defects call for special dental attention and closer monitoring of teeth and gum health.
The key is to see us and the other healthcare providers for your child's chronic condition as part of an overall team. Sharing information and regarding both dental and general care as part of a comprehensive strategy will help to prevent dental problems from developing and improve their health.
If you would like more information on dental care for children with chronic conditions, please contact us or schedule an appointment for a consultation. You can also learn more about this topic by reading the Dear Doctor magazine article "Managing Tooth Decay in Children with Chronic Diseases."